Top film weddings
Now you've got that engagement ring on your finger you'll be looking ahead to the big day with the widest smile on your face and one of the first things you're likely to do, is watch your favourite chick flick to check out how the perfect weddings are pulled off in the films.
Whether it's the role of Julia Roberts marrying her best friend, or Katherine Heigl being a bridesmaid 27 times before finally making it down the aisle herself that you're playing, you can definitely get some wedding tips from some of these great film moments.
My Best Friend's Wedding (1997)
First on our list is a classic Julia Roberts role where her character, Julianne Potter makes a pact with college friend Michael O'Neal (Dermot Mulroney). They agree to marry each other if neither are already married by the time they turn 28. However, a spanner is thrown into the works when just weeks before her 28th birthday, she finds out her friend is about to be married. The situation is confused even further when Roberts' character is asked to be their maid of honour.
Although you probably won't the build up to your own wedding to be quite so dramatic, this hilarious rom-com is definitely worth a watch to relieve your stresses in the lead up to the big day. With a hit cast including Roberts, Cameron Diz and Rupert Everett; two Golden Globe nominations and an Oscar-nominated score, you definitely won't be disappointed.
The Princess Bride (1987)
This classic film from many people's childhoods is still a massive hit today and is definitely the home of one of the funniest wedding scenes of all time - the priest's pronunciation of "mawwage" is something you'll want to watch again and again.
https://www.youtube.com/watch?v=_bY0fdgpISc
Father of the Bride (1950, 1991)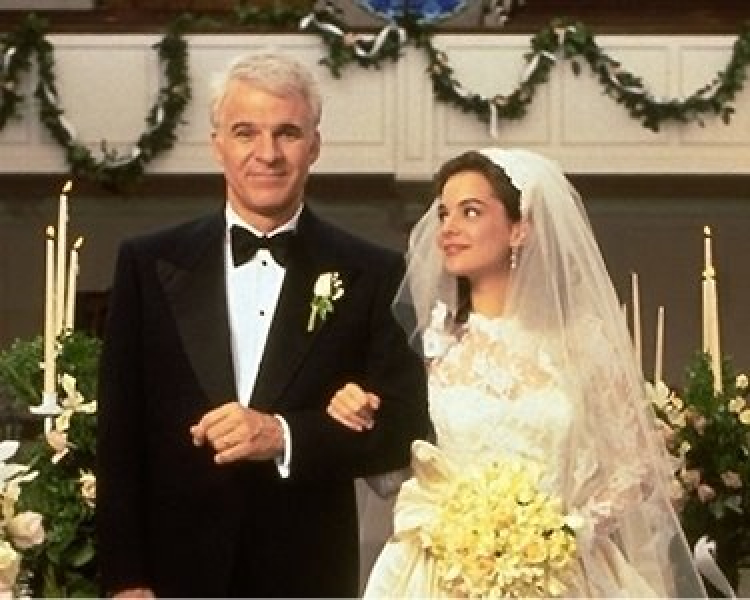 If you wanna forget the stress and just sit back, relax and smile, then Father of the Bride is the perfect movie choice. Considered a Hollywood classic, it's one of the very few films where the remake has been equally as good as the original. Whether you decide to watch Vincente Minnelli's original or the 1991 remake starring Diane Keaton, Steve Martin and Martin Short, there's no way you'll make it to the end without a smile on your face.
My Big Fat Greek Wedding (2002)
Not only was this film an unexpected hit, it stands as the highest grossing wedding movie of all time. In a quest for identity, Toula Portokalos needs to learn to embrace her heritage while her family have to accept her non-Greek partner.
Nominated for an Oscar for Best Original Screenplay, My Big Fat Greek Wedding is a film that taught its audience that Windex can solve problems of any size.
Video: https://www.youtube.com/watch?v=ZrXGnwhZ58c
27 Dresses (2008)
Although it's stressful, 27 Dresses is actually the perfect love story. After a few bumps, including unrequited love and a sister who steals the love of her life, the girl finally gets the guy - albeit not the one we originally expect - and her wardrobe of 27 bridesmaids dresses makes an appearance at her wedding.
Back to articles
Date Posted: Wednesday 14th January 2015
Author: Yazmina Wallace